Far-Rider Moto Adventures Launches Kickstarter Campaign
ADVMoto is excited to launch our first comic project on Kickstarter:
"Far-Rider Moto Adventures Comic - New Beginnings"
Far-Rider: Moto Adventures (Far-Rider) is the original adventure motorcycle comic. A 36 page full color book which follows Scott Parson as he explores himself and the world through riding. Created and published by ADVMoto, Far-Rider brings the amazing triumphs and tragedies of adventure to everyone, whether they ride or not. If you've ever wondered what it's like to "give up" a "stable" life for the great-unknown, Far-Rider is for you!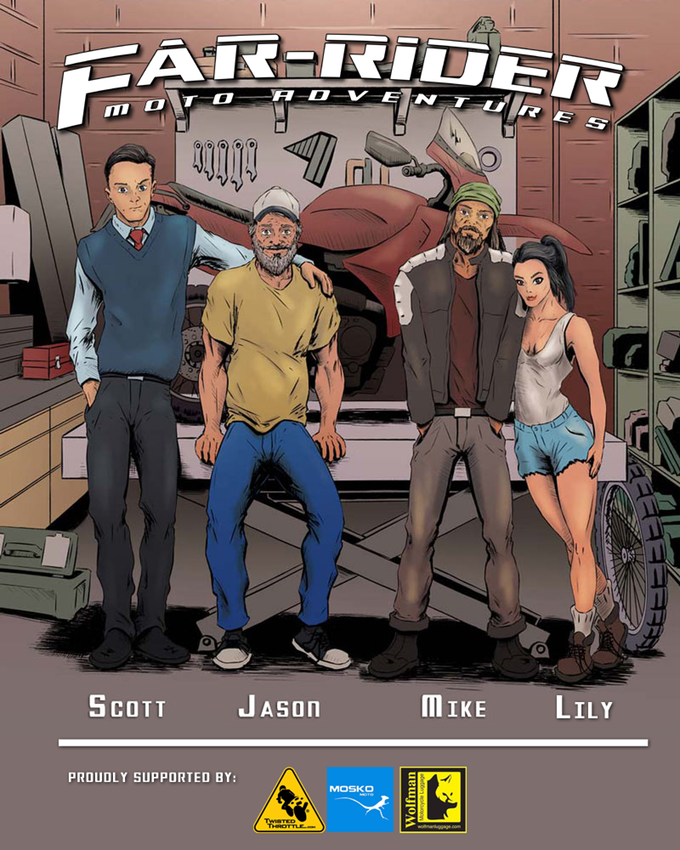 5 Reasons Why Far-Rider Rocks!
Comics are Ideal - Using illustrations and short format writing is an ideal way to convey a multitude of adventure aspects into one timeline
Make His-tory with Reader Feedback Periods - We will announce surveys and comment times every two months to encourage readers and supporters to submit story ideas, or let us know how or if they can relate to certain characters or events. YOUR INPUT MATTERS!
It's Real-ity Based - Unlike many motorcycle comics, Far-Rider not only builds on the personal stories of the creator, but of the many many types of experiences we have heard through 10 years of regular print and web publishing.
It's more than Just a Dream - People who have been on extreme adventures (especially solo) understand some direct experiences seem more like dreams. Logic, values, perceptions and long held beliefs can get turned upside down in an instant.
Never Before Done - We're not sure why, but we're happy to be the first.
The Story:
One rainy day in the mountains of South America, Jason (Scott's father) gets into an accident, knocked unconscious and wakes up in a hospital with his wife (Lydia) and son (Scott).  Not knowing what happened to his father and also not happy with his current situation, Scott embarks on the journey of his life.    
On the way, Scott learns to ride and is helped along by Mike, Jason's close friend and fellow veteran rider. Mike's daughter Lily, is a kick-ass rider who's there to pick Scott up when he needs help.  Eventually, he sets off to discover what happened to his father and  opens his eyes to tragedy, overcoming, the trials of humanity and what really is important in life. 

The Production Plan:
• Kickstand Up January 2020! - The initial two pages will be released digitally online through FarRiderComics.com. In addition, two pages will be in the print and digital editions of ADVMoto Magazine which publishes six times a year (every two months) starting January (then March, May, etc.)
• Release Schedule - Two pages will be released per month (by end of the first week) over a 12 month period to then finally be assembled into its own book/title at the end of 2020.  All backers will receive monthly notifications to visit FarRiderComics.com and get their new update. 
• Final Print Book Delivery - After all 24 pages are produced, they will be assembled with all the surrounding content (extra perks, thank you pages, ads, cover, etc.) and sent to the printer by the end of 2020.  All mailed copies will be plastic wrapped and you should receive your copies in the mail (North America) no later than Mid-December... just in time for Christmas.
• Reader Feedback Periods - March 1st, 2020 (and every two months thereafter) we will send all supporters a link to provide feedback, criticism and pitch some story ideas if they are interested.  These will be assembled and every single one will be read and considered.  Wherever we see a thoughtful, insightful and authentic way to work ideas or plots into the story, we will!  Even though it may take some re-writing, this is where the story can evolve thanks to your input.
The Team
• Creator - Carl Parker  
As a photographer, graphic artist and writer, Carl has not only published ADVMoto Magazine in print and digital for the past 10 years, but also released the second ever solo recorded and produced adventure riding film called The Return: Riding Western China in 2007 which also features story telling illustrations.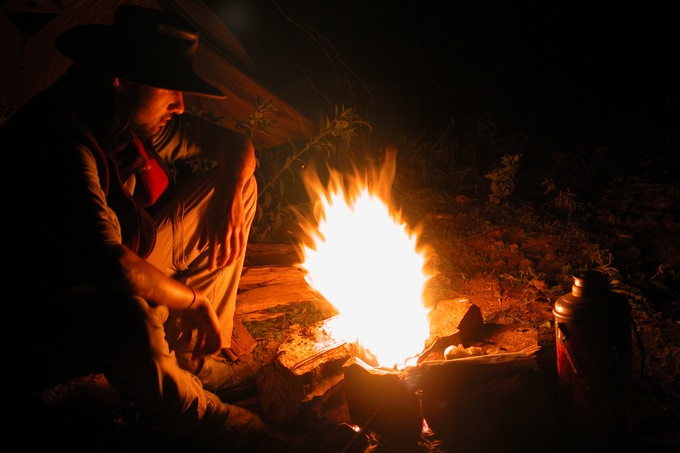 "Adventure has the potential to profoundly change peoples' lives through the struggles and joys of expanding our horizons. It makes people more adaptable, confident, aware, considerate and grateful for the blessings they have in life. It's easy to forget the most distilled forms of happiness in the everyday hustle, and Far-Rider takes a look at this."  - Carl Parker 
• Artist - Deniz Gulmez
Deniz was born in Turkey, and has been doodling on any scrap of paper he could find ever since. As expected from all of his generation, he enrolled in an engineering collage to get a "real job." As a lifelong fan of all sorts of comics, he decided to pursue a career as a comic book artist instead.
Fascinated by the 90's era American comics and Japanese Samurai themed Manga, he collaborated as one of the artists in the Kickstarter project THE UNSPEAKABLE TEXT, and he has done many promo art and covers for musicians, books, magazines and small businesses.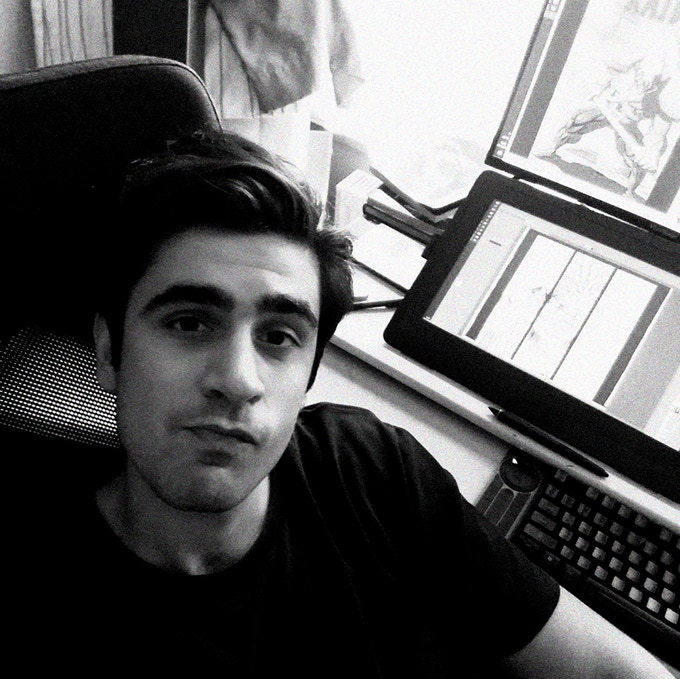 "In the past, I've mostly worked on superhero action and flashy pinup illustrations, and now I'm excited to work on Far-Rider because it has highly relatable characters with real life struggles and they are having an amazing journey in incredible landscapes. As they discover themselves and this beautiful world we live in, I also discover myself as an artist and improve myself with every page. I want this work to be my best one yet and I want the readers eyes have a feast during this brilliant adventure." - Deniz Gulmez
• Story Consultant - Sam Manicom
Adventurer and author Sam Manicom has been travelling pretty much since his return to the UK from Africa with his parents. He was born in the Belgian Congo where his parents worked, and lived through the two rebellions that preceded the change of this West African country's name to Zaire.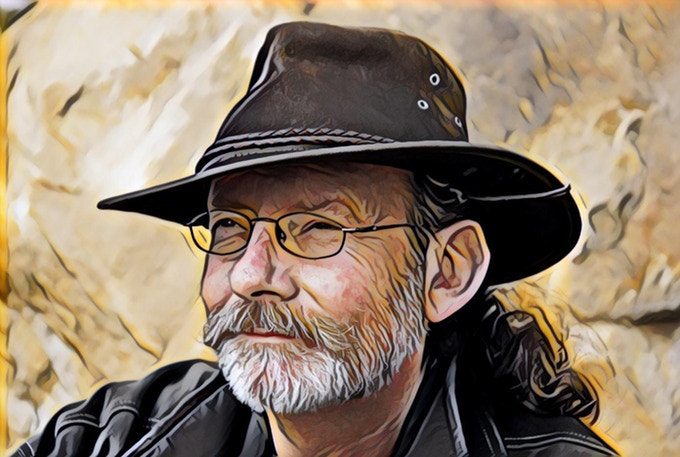 "What a fantastic project this is. The whole concept is a buzz. I love how wonderfully original the idea is, and how the planned storylines are going to make Far Rider even more unique. There are plenty of tales of the unexpected in store for readers. It's going to be a fine combination of entertainment and inspiration. I'm absolutely impressed with the quality of the work." - Sam Manicom
• Story Consultant - Egle Gerulaityte
Egle is a motorcycle hobo, writer, blogger, rally tester, and motorcycle tour guide whose barely coherent ramblings can be found on ADVMoto Magazine's online blog, ADV Rider, and Women ADV Riders. Egle is riding around the world on her beat-up Suzuki DR650 on a quest to find new and amusing ways to tell stories, race, bring more women into the motorcycling world, and battle her crippling addiction to coffee and riding motorcycles.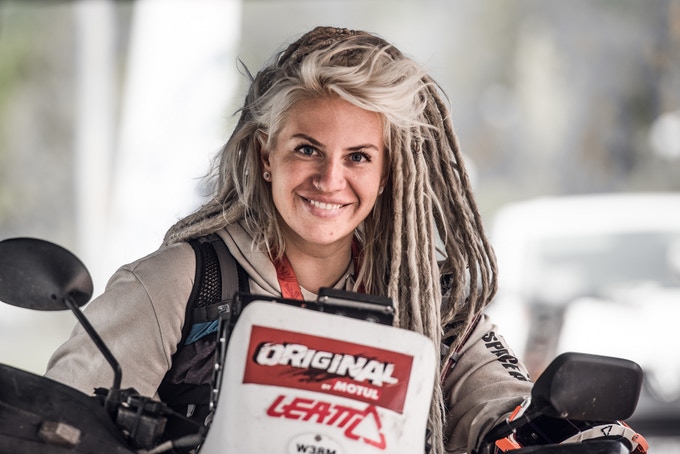 Thank You!
One tenet of adventure is everything is possible with the help of friends, family and the many kindhearted strangers we meet along the way.  Adventure teaches some very important lessons. First is to set lofty goals and plan to make them happen. Second, is you can't do it all by yourself.  Third, be grateful for the help you receive and pass the good-will forward whenever possible. 
We deeply appreciate any level contribution and helping us get the word out. Please know your pledge will go a long way in making Far-Rider, not just the original adventure motorcycle comic, but also a source of inspiration to bring people together, examine what happiness means and maybe even become Far-Riders in their own way.